According to a psychologist – Dr.Howard Gardner: Children have 8 kinds of intelligence and every child possesses one or more of those bits of intelligence. In their stage from 3 to 13 years old, parents should observe deeply to realize their kids' strengths so that they can boost their children to grow faster and faster in their aspect as well as orientating them with effective methods. 
1. Logical-Mathematical Intelligence 
This is clearly shown in their logic, abstraction, argument, and numbers, which helps them to build clear and scientific thinking along with analytical ability and remarkable reasoning. This is also one of the criteria that almost all Vietnamese children usually base on and are required to have from their parents.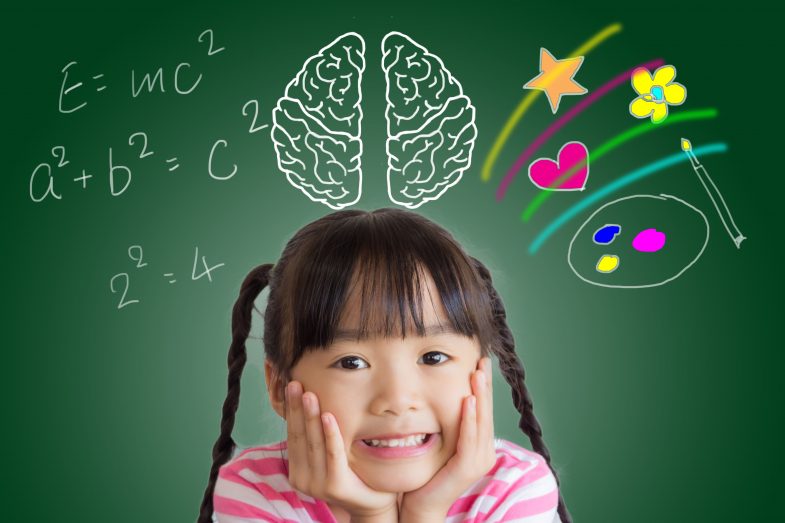 2. Bodily-Kinesthetic Intelligence 
Children who own this advantage will be very outstanding in physical activities, requiring briskness, sharpness, and skillful use of arms and legs. Sports such as play-acting, dancing, ceramics pottery making, circus performing, etc will be your children's suitable choices. 
3. Visual-Spatial Intelligence
Those who have excellent visual ability, a good sense of direction, and manipulation of large space subjects may own this intelligence. This really helps them to interact well with the surrounding world and exchange their cognition. Besides that, they love art, which makes them suitable for jobs such as pilot, sailor, architect, or engineer. 
4. Linguistic-Verbal Intelligence 
This intelligence represents verbal language such as word meaning, word order, sound, intonation, and verse. Possessing this bit of intelligence, children are able to deliver their thoughts and emotions more diversely and convincingly as a little author or an editor. The simplest way to stimulate their intelligence is having a talk between parents and children.  
5. Musical Intelligence
Anything related to melody or hearing may arouse children's interest and enhance their understanding. Those who possess this kind of intelligence always feel so excited with music, catch different rhythms and timbres, have an aptitude for singing and playing instruments, or even composing songs. Therefore, it's the right way to deliver knowledge through music to make good use of this intelligence. 
6. Interpersonal Intelligence 
Extroverted children seem to own this intelligence. It is very easy for them to make friends, integrate into new environments, and get positive energy. Parents should create a favorable condition for children to experience activities related to psychology, negotiation, or society, which are believed to be exceeding exciting for the children. 
7. Naturalistic Intelligence
Including in-depth observation, understanding, and the love of the world of nature, like interpersonal intelligence, the kids having this intelligence will get energy through interaction with the world. 
8. Intrapersonal Intelligence 
This type of intelligence really helps children to understand themselves, including strengths, weaknesses, and wants. However, they are quite sensitive to their emotions and orientation. Understanding this, parents can actively accompany them and together with them, point out development methods for their future. 
Every kid has their own potential if parents can realize and show them the right growth path. Let IEB Education accompany them in their golden period to develop their outstanding thinking with a course named "Sony Math – 5 breakthrough methods of successful thinking". 
Let's inbox our fanpage or make a call right away to our hotline to get a 25% off voucher for the Sony Math course. This promotion is applied until the end of February 2022. Let's have a quick registration for children. 
———————————————————————–
IEB EDUCATION – NURTURING AND DEVELOPING
Hotline: 032 736 8086
Head office: Sao Mai building – 19 Le Van Luong Street, Thanh Xuan Ward, Ha Noi City
Email: [email protected]
Fanpage: @Innovation.Excellence.Bright